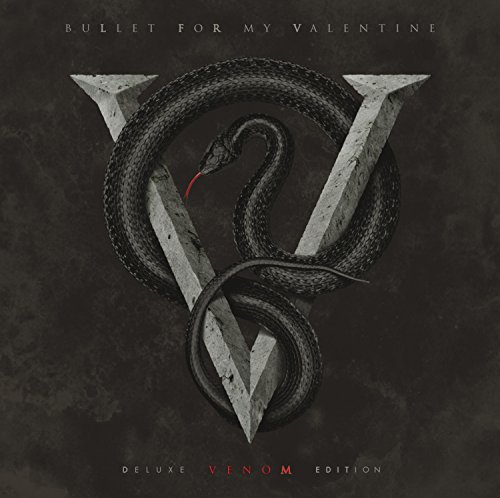 Bullet for my Valentine - Venom (Deluxe Version)
UK metal titans 5th studio album, VENOM, will street on 8/14th via RCA Records. Produced by Carl Bown and Colin Richardson (Slipknot, Machine Head, Trivium) at Metropolis Studio in London, VENOM is an unrelenting, fierce step forward for Bullet For My Valentine. Their heaviest record to date sinks its teeth into listeners with a powerful delivery by vocalist/guitarist Matt Tuck, ferocious riffs by guitarist Michael "Padge" Paget and rapid-fire rhythm courtesy of drummer Michael "Moose" Thomas. On VENOM the trio maintains their signature balance of heavy, coupled with surging melody, and pushes themselves to the next level. Bullet For My Valentine's progression of sound is evident on VENOM, presenting a harder delivery and a more complex song structure, as witnessed on the band's crushing new track, "No Way Out." In addition to the news of the upcoming record, Bullet For My Valentine has also announced they've recruited fellow Welsh musician Jamie Mathias to join the band as their new bass player and backup vocalist.

Track Listing:

1 V [1:26
2 No Way Out 3:53
3 Army of Noise 4:18
4 Worthless 3:18
5 You Want a Battle? (Here's a War) 4:14
6 Broken 3:40
7 Venom 3:54
8 The Harder the Heart (The Harder It Breaks) 4:00
9 Skin 3:59
10 Hell or High Water 4:36
11 Pariah 3:46
12 Playing God 3:52
13 Run for Your Life 3:34
14 In Loving Memory (Demo Version) 4:02
15 Raising Hell 4:35

**Deluxe version will feature a lenticular cover for a limited time only.