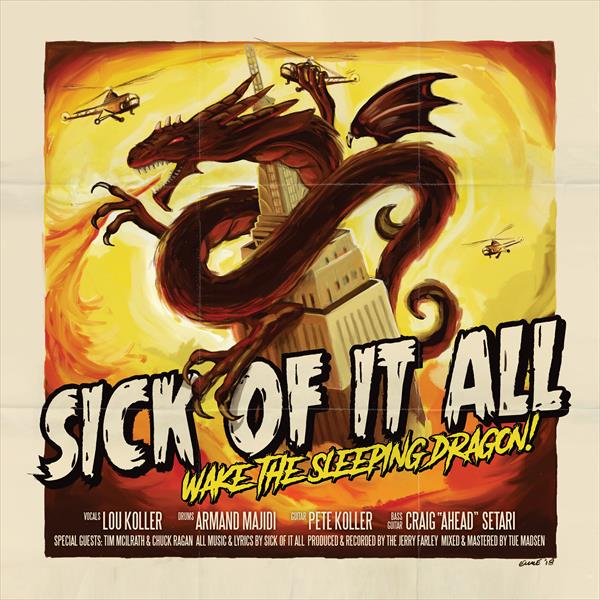 Sick of it All - 'Wake the Sleeping Dragon' CD Box Set.
To SICK OF IT ALL aging doesn't mean slowing down or getting softer – the contrary is the case for the hardcore punk legends from New York: "There are so many horrible aspects of the world that become more obvious to us year after year, which we didn't see or understand before, which fuel our frustration every day", explains drummer Armand Majidi. "We've lived long enough now to see through the matrix, and thank goodness we have this band, so we can vent about it." Still, they have allowed for a different approach on their 11th studio album. "On this record, we had a more open, communal, tongue-in-cheek approach, so many different topics were covered, some way more lighthearted than others. It's always time for revolution, so that message is loud and clear on multiple songs, but we also sing about musical heroes like the Bad Brains, inner demons, our distaste of animal abuse, annoying narcissism on social media, friends we've lost, life on the road, impending wars for resources, as well as mosh pit patterns that can be linked to male pattern baldness. We've allowed ourselves greater lyrical freedom on this record for sure!" Working with friends is one of the most important key factors for SICK OF IT ALL: Asking Ernie Parada, whom they have known since the 80s, was an obvious choice for the striking front cover. Producer The Jerry Farley became a very important part of the creation of this album after working with him in his Nova Studios, Staten Island, New York before. Mix and mastering were done by long-term partner Tue Madsen. While you can hear bassist Craig "Ahead" Setari on "2+2" and drummer Armand Majidi on "The New Slavery" the band asked two good friends of theirs, Chuck Ragan and Tim McIlrath, to lay down guest vocals for "Bull's Anthem". Chime in with those irresistible singalongs and "Wake The Sleeping Dragon!"
"Wake The Sleeping Dragon!" Ltd. CD Box Set (incl. CD Jewelcase, bandana and short lanyard).