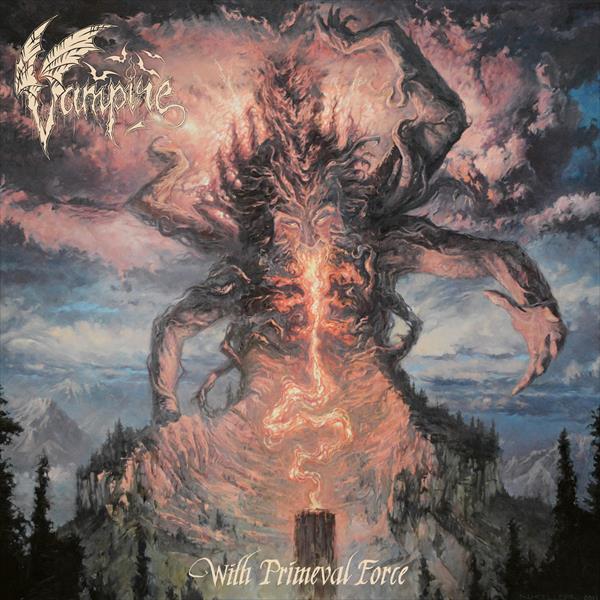 Vampire - With Primeval Force (Deluxe CD)
Celebrate the return of the VAMPIRE! The impatiently awaited 2017 studio album by Gothenburg's most horrid death/thrash export unleashes a macabre yet atmospheric sonic whirlwind living up to its title "With Primeval Force". Sporting influences from Dissection, Bathory, Mercyful Fate, Slayer, Sarcófago, traces of Autopsy, Master's Hammer, and Possessed, VAMPIRE manage to create a unique musical formula that touches upon the aesthetics of Hammer Horror and the hideous yet seductive imagery crafted by H.P. Lovecraft, Bram Stoker, and M.R. James in terms of lyrics and visuals. "It has a more mature feel to it," guitarist Black String states when comparing it with the much-lauded 2014 self-titled debut. "As the cover art by Nick Keller suggests, the musical and lyrical horizons have broadened; every song feels as if it lives its own life, still well-placed in the general picture. I wanted the band to go for a more introverted and cold sound, as a distinction to some of the chorus-laden 'fist in the air' songs on our debut. So, you could say that "With Primeval Force" generally is both colder and more atmospheric than our debut; a bit less 'traditional' songwriting in our terms. Despite that, the album somehow embraces bits and pieces of the last 35 years or so of metal music. In that sense, it holds on to a lot of tradition and the VAMPIRE mark is still very present." Featuring individual illustrations per song courtesy of Tribulation's Jonathan Hultén, "With Primeval Force" offers devastating, Teutonic thrash flavoured tracks like "Ghoul Wind" but also epic, gloomy pieces like the majestic "Revenants".
CD digipak folds out in a cross shape.