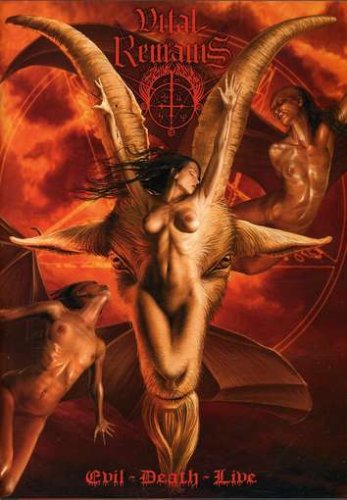 Vital Remains - Evil Death Live DVD
This DVD features killer live footage of the icons of extreme death metal filmed at Metalmania 2007 in Poland. It includes nearly one hour of their gloomy trademark ultra fast massacre style metal!

Vital Remains blast out brutal death metal songs that are as epic as can be. With seven songs (plus two intros) in one hour's time, they perform about four full songs in the time it takes Slayer to do a complete concert. Sound and video are absolutely on top, the surround effect encompasses you and the bass doesn't let down. Play it wickedly loud next time the Jehova's witnesses are around! Damien Boynton (the live singer for this occasion) does some of the funniest "wicked" looks you'll ever see, but he's a pretty solid vocalist (not a new Glen Benton though). The band must be praised for the pure stamina of seven to ten-minute epics with non-stop frantic blast beats, deep guttural growling, and relentless guitar and bass shredding.