Issue 13 - LIMITED STOCK LEFT!
Issue 13 - LIMITED STOCK LEFT!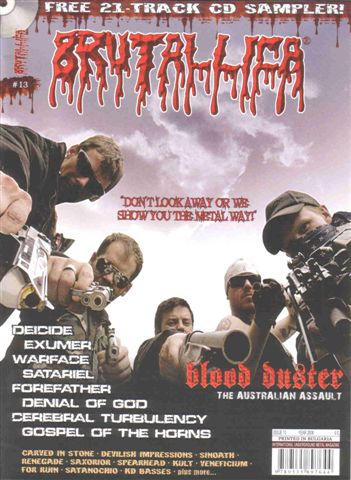 Brutallica is our biggest selling true underground magazine & has a huge following around the world including many of you here! Issue 13 is another killer & will no doubt be another big seller - they always are! Aussie\'s Blood Duster are featured on the cover with a great write up on them inside. You also find Deicide, Exumer, Warface, Satariel, Forefather, Denial of God, Cerebral Turbulency, Gospel of the Horns & plenty more top class underground bands inside. The FREE CD features 22 brutal tracks from Satanochio, Catafalc, Fetid Zombie, Chronic Torment, Saxorior, Malas, Blood Duster, C**tscape, Veneficium, Captain Cleanoff, Sincarnate, Renegade, Chronic Torment, Bathtub Shitter, Divine Pustulence, Utlagr, Yacoepsae, For Ruin, Infaust, Daemusinem & Dominium. This mag is jam packed with great reading on all the best that the world\'s underground has to offer & yet which more mainstream mags ignore of just skim over. You\'ll find tons of reviews & ads to some of the worlds best indie labels featuring truckloads of great bands who\'s albums are hard to track down here!